MSF Faculty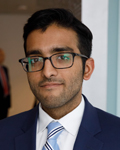 Ram Yamarthy, Ph.D. is an Adjunct Professor at the Georgetown University School of Business. He received his Ph.D. in Finance in 2017, from the Wharton School at the University of Pennsylvania. He also holds a B.S. in Economics and B.S. in Mathematics from the Stern School of Business at New York University.
In addition to his adjunct role, Dr. Yamarthy is a Research Economist at the Office of Financial Research (OFR) within the US Department of Treasury. In that role he conducts policy and academic research related to financial market stability. Dr. Yamarthy has presented his work at a number of top academic conferences, universities, and policy institutions. His research specifically focuses on credit and fixed income markets, the hedge fund industry, and interactions between financial markets and macroeconomics.  
Prior to his current role, Dr. Yamarthy was a Research Associate at a large quantitative, asset management firm (AQR Capital Management). There he did research building financial market strategies and applying data science tools to handle large data sets.