MSF Faculty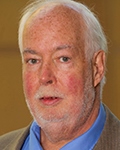 Professor Cooke specializes in the Legal Environment of Business and Federal Income Taxation. Professor Cooke's current research focuses on federal tax law changes, ethics and professional responsibility and tax practice and procedure.
A member of The McDonough School of Business at Georgetown University faculty since 1976, Professor Cooke has been named a Distinguished Teaching Professor.
To learn more, please click here.