Skip to text alternative of the following infographic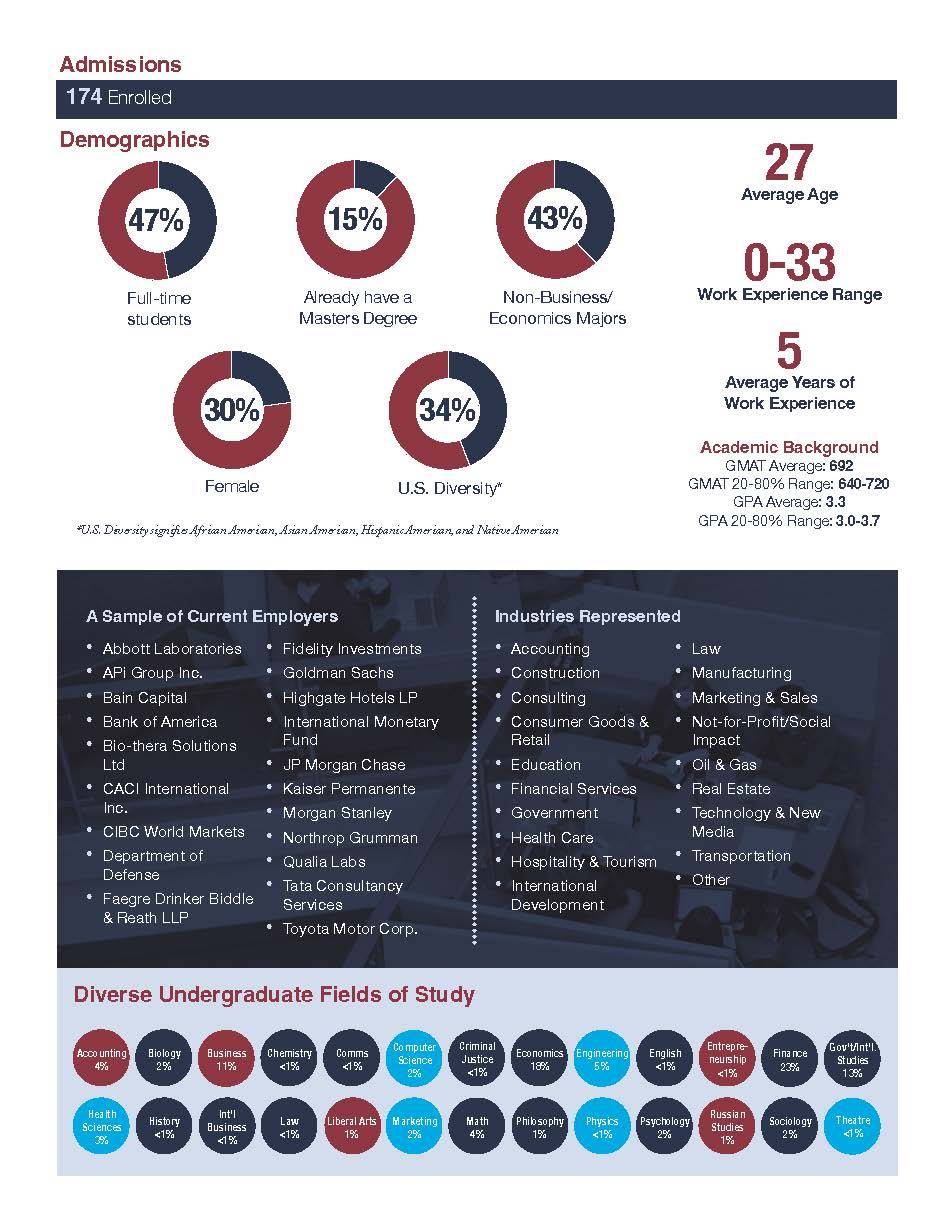 Admissions – 174 Enrolled.
Demographics.
34 percent U.S. Diversity (*U.S. Diversity signifies African American, Asian American, Hispanic American, and Native American)
30% Female.
43 percent are non-business and non-economics majors.
15 percent already have a master's degree
47 percent full-time students
Average age is 27.
Students have 5 years of work experience on average and work experience ranges from 0 to 33 years.
Academic Background.
The Average GMAT score is 692
The GMAT 20 through 80 percent range is 640-720
The GPA average is 3.3
The GPA 20-80 percent range is 3.0-3.7
A sample of current employers includes Abbott Laboratories, APi Group Inc., Bain Capital, Bank of AMerica, Bio-thera Solutions Ltd, CACI International Inc., CIBC World Markets, Department of Defense, Faegre Drinker Biddle & Reath LLP, Fidelity Investments, Goldman Sachs, Highgate Hotels LP, International Monetary Fund, JP Morgan Chase, Kaiser Permanente, Morgan Stanley, Northrop Grumman, Qualia Labs, Tata Consultancy Services, and Toyota Motor Corp.
Industries represented include accounting, construction, consulting, consumer goods and retail, education, financial services, government, health care, hospitality & tourism, international development, law, manufacturing, marketing & sale, not-for-profit or social impact, oil and gas, real estate and technology and new media, transportation, and other.
Diverse undergraduate fields of study include 4% accounting, 2% biology, 11% business, less than 1% chemistry, 2% computer science, less than 1% criminal justice, 18% economics, 5% engineering, less than 1% english, less than 1% entreprenuership, 23% finance, 13% government/international studies, 3% health sciences, less than 1% history, less than 1% international business, less than 1% liberal arts, 2% marketing 4% math, 1% philosophy, less than 1% physics, 2% psychology, 1% russian studies, 2% sociology, and less than 1% theatre. This includes those reporting a double major.