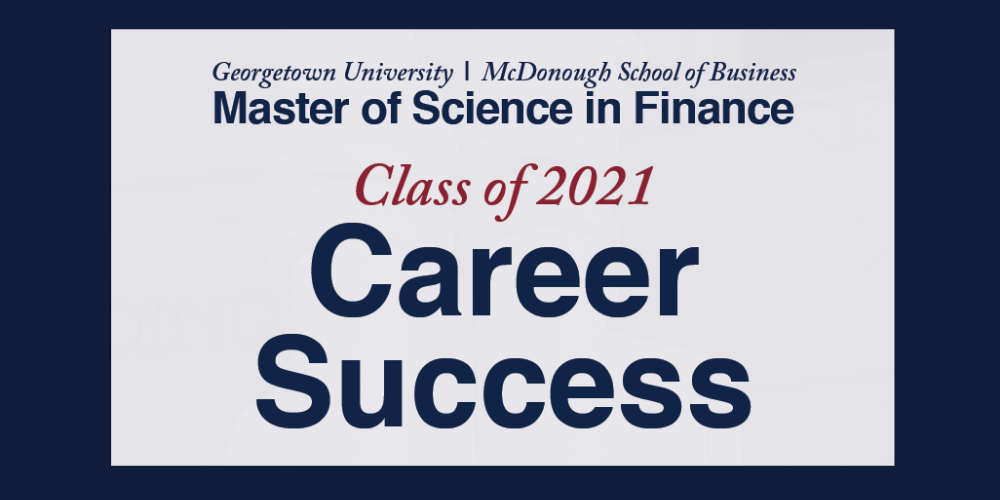 Graduates of the Master of Science in Finance (MSF) program at Georgetown University's McDonough School of Business reported another year of outstanding results in the annual MSF Career Success Report.
The Class of 2021 reported a comprehensive average base salary of $112,139 and a median base salary of $100,000. For the third year in a row, median base salary remained at the six-figure mark.
For the first time, the MSF Program also reported career success by experience level to provide a more in-depth view of outcomes data among a diverse cohort of students.
"Our program is unique for its Blended4 educational model and the diversity of our students, particularly the diversity of their educational backgrounds and stages of their careers," said Allan Eberhart, senior associate dean for the MSF program. "This diversity translates to a rich learning experience and extraordinary career outcomes for our graduates."
Graduates with three years or less of work experience reported an average base salary of $97,571, a median base salary of $90,000, and average bonuses of $44,577. In addition, 100% of early career graduates were employed within six months of graduation.
Graduates with four or more years of work experience reported an average base salary of $120,189, a median base salary of $118,000, and bonuses and options worth up to $500,000. These graduates also received a 59% average increase in their base salary between the time of admission and six months after graduation. In addition, 78.9% of them leveraged the MSF degree to earn a promotion at their current company or to accept a job at another company.
"Our students continue to impress employers with their depth of knowledge, flexibility, adaptability, and willingness to tackle challenging business problems," said Thomas Stowell, associate dean for MSF career services and strategic initiatives. "From asset management to corporate finance and from investment banking to consulting, our students are represented well within the marketplace. I can't wait to see how the Class of 2021 continues to innovate and add value well into the future."
As Georgetown McDonough's first technology-intensive program, the MSF offers a flexible cohort-based format that allows students to seek internships, compete for promotions with a current employer, or accept a new position at any time between admission and graduation. The program also blends rigor with flexibility through its mix of asynchronous materials and required weekly synchronous sessions, which students can attend online or in person through the program's revolutionary blended classroom.
For more information about the Georgetown McDonough Master of Science in Finance, please visit our website.