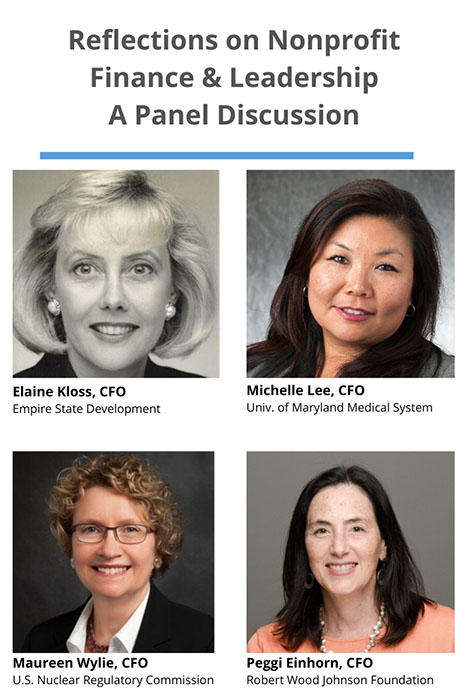 Last month, the Master of Science in Finance program at Georgetown's McDonough School of Business hosted four chief financial officers from government, healthcare, and nonprofit organizations who shared career experience and advice. The evening of dialog and Q&A focused on their career trajectories, the influence of personal, cultural, and family values on their career paths, the role of mentors and sponsors in their careers, and why they chose to work in nonprofit organizations.
Although the panelists all work for nonprofit organizations currently, most had worked in the for-profit sector previously, including auditing, banking, and corporate finance. Their experience illustrates the fluidity of talent between for-profit and nonprofit sectors, and how both can provide excellent cultures, challenging work, and career opportunities. The career management advice they offered transcends organizational distinctions between the for-profit and nonprofit sectors.
The four panelists were:
Peggi Einhorn, chief financial officer and treasurer of the Robert Wood Johnson Foundation, the largest philanthropy organization in the United States dedicated solely to health, including supporting research and programs on a broad range of pressing health-related issues;
Elaine Kloss, G'80, CFO of Empire State Development, New York State's primary economic development agency;
Michelle Lee, senior vice president and CFO of the University of Maryland Medical System, a nonprofit healthcare system that is the largest in Maryland; and
Maureen Wylie, CFO of the U.S. Nuclear Regulatory Commission, an independent agency of the U.S. government tasked with protecting public health and safety related to nuclear energy.
Lee highlighted three factors that contributed to her career success: choosing an organization whose mission aligns with her own beliefs that also was poised for growth; taking intentional actions, such as volunteering for projects that expanded her range of skills and relationships; and identifying champions in the organization that believed in her skills and abilities.
Einhorn echoed the sentiment about working for an organization she believes in. While she told audience members she enjoyed her 24 years working in various financial roles at J.P. Morgan Chase in New York City, she describes her current role as the best job she has ever had because of its leadership's heavy emphasis on the organization's mission and values.
Several panelists recommended not to over-plan your career. Instead, they said, make purposeful choices and be highly engaged in your work, but also treat it as an adventure that plays out over a long period of time that cannot be planned out every step of the way. When discussing juggling work and family, and each panelist emphasized focusing on personal values first saying career success will follow.
Kloss said she provides a top 10 list of career advice that transcends the workplace and easily could serve as tips for healthy personal development and relationships outside of the workplace. Among her tips are to enjoy yourself, never stop learning, ask questions, and be kind. Kloss added that these themes have served her well wherever she worked, such as corporate controller roles in the United States and abroad and at all levels of government, including federal, state and local.
Wylie discussed some of the cultural aspects of working for the government that she values, such as work-life balance; strong benefits including healthcare and pensions; broad scope of opportunity to lead, manage, and contribute to success of others; and the high proportion of women in government financial roles. Like others, she also recommended seeking difficult assignments and taking risks for what she calls "crucible experiences" that enhance your skills and career.
The panel was sponsored by MSF Career Services and moderated Liz Sweeney, executive in residence for government, healthcare, and nonprofit finance, and Donna Tanenbaum, career advisor and executive in residence for talent development.
Tanenbaum noted that many of the panelists' comments align with themes that she and her peers in career planning at Georgetown emphasize with students, such as the importance of building and nurturing networks and being willing to try new things to build varied experiences.