MSF Faculty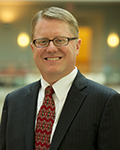 "You're more than a standardized score to us. We have a holistic approach to admissions where other factors, such as your prior academic record and essay, are important considerations. We always like applicants who are driven to gain admission by asking for ways they can improve their application and by following up on our recommendations. Say 'yes' to the challenge of our rigorous admissions process and show us your grit!"
 
Allan Eberhart is the Founding Director of the Master of Science in Finance Program, Senior Associate Dean for Technology-Intensive Education at Georgetown University's McDonough School of Business, and a tenured Professor of Finance.
Eberhart has published dozens of articles covering topics such as market efficiency, bankruptcy and financial distress, equity valuation, option pricing, and the valuation of corporate research and development projects. His work has been published in the Journal of Finance, Review of Financial Studies, Journal of Accounting Research, and many other journals. He also has been an associate editor for the Journal of Banking and Finance and the Journal of Financial Research, and was a visiting professor at New York University's Stern School of Business.
In his professional work, Eberhart has been an Associated Consultant with A.T. Kearney. He has also performed consulting work for the Ashmore Group, Barclays, Goldman Sachs, Standard and Poor's, and other firms.
He led the launch of the Master of Science in Finance program — the first technology-intensive program at the McDonough School of Business — and has overseen the growth of this two-year program from its initial graduating class of 31 students in 2015 to approximately 220 students (across both classes) at the start of the 2019-2020 academic year. He was appointed as Senior Associate Dean in 2017 to help other programs at Georgetown improve the quality and flexibility of education through technology.
Eberhart received his Ph.D. in Finance from the University of South Carolina and is a doctoral candidate in Higher Education Management at the University of Pennsylvania. Follow Eberhart on LinkedIn and Twitter.
To learn more, please click here.