MSF Faculty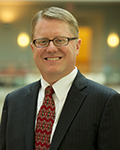 "You're more than a standardized score to us. We have a holistic approach to admissions where other factors, such as your prior academic record and essay, are important considerations. We always like applicants who are driven to gain admission by asking for ways they can improve their application and by following up on our recommendations. Say 'yes' to the challenge of our rigorous admissions process and show us your grit!"
 Allan Eberhart is the inaugural Senior Associate Dean for the Master of Science in Finance (MSF) program, the first technology-intensive program at Georgetown University's McDonough School of Business. He was the program's Founding Director and has overseen its growth from the first graduating class of 31 students in 2015 to 276 students—across both cohorts in this two-year program—at the beginning of the 2020-21 academic year.
Allan is also a tenured Professor of Finance at and has published dozens of articles in journals such as the Journal of Finance, Review of Financial Studies, and the Journal of Accounting Research. He served as an Associate Editor for the Journal of Banking and Finance and the Journal of Financial Research, and has published articles in Bloomberg Businessweek, Forbes, Fortune, and the Wall Street Journal.
In previous positions, Allan served as the inaugural Senior Associate Dean for Technology-Intensive Education, the Founding Academic Director of the ICBC Executive Education program, and the Finance Area Coordinator. He was a Visiting Assistant Professor at New York University's Stern School of Business, where he taught a core MBA finance course, and an Associated Consultant with A.T. Kearney. He has also consulted for firms such as Ashmore Group, Barclays, Goldman Sachs, Standard and Poor's, and many other firms. 
Allan has taught 15 different courses to undergraduate, MBA, EMBA, MSF, and certificate students. He is also the recipient of multiple teaching awards and has been highlighted in Businessweek's ranking of favorite business school professors. He received his bachelor's degree in business administration and economics from Thomas More College, master's degree in economics from the University of Cincinnati, doctorate in finance from the University of South Carolina, and doctorate in higher education management from the University of Pennsylvania. To learn more, please click here.