MSF Faculty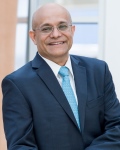 Paul Almeida is Dean and William R. Berkley Chair at Georgetown University's McDonough School of Business. A member of the Georgetown community for more than two decades, Almeida has served Georgetown McDonough in a number of positions, including most recently as deputy dean for executive education and innovation and, prior to that, as senior associate dean for executive education. He also serves as professor of strategy and international business.
Almeida's strategy research focuses on innovation, knowledge management, alliances, and informal collaborations across organizations and countries. He is interested in understanding how knowledge builds across people and organizations and how this affects performance. He has published in, and served on, the editorial boards of several leading journals. Almeida also previously was chair of the Technology and Innovation Management Division of the Academy of Management. He has received the Georgetown's Faculty Research Award and the Dean's Service Award.
To learn more, please click here.