MSF Faculty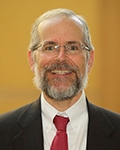 Professor Angel specializes in the structure and regulation of financial markets around the world, and he has visited over 50 financial exchanges around the world. His current research focuses on short selling and regulation. He teaches undergraduate, MBA, and executive courses, including Financial Crises: Past Present and Future. Other courses include Financial Markets, World Equity Markets and Regulation in Financial Markets.
"Dr. Jim" has testified before Congress about issues relating to the design of financial markets. In addition, he has been quoted in hundreds of newspaper articles and has appeared numerous times on radio and television.
To learn more, please click here.