MSF Faculty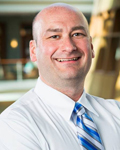 James Sinclair is the founder and president of Dichotic Capital LLC. He also serves as the managing partner for Dichotic Capital Investors LP hedge fund. Prior to founding Dichotic, Dr. Sinclair served on the business school faculty at University of Connecticut, Cornell University, and Georgetown University.
While serving as a faculty member, Dr. Sinclair primarily teaches Financial Accounting and Financial Statement Analysis courses, while also developing several undergraduate, graduate, and executive-level courses, such as Applied Earnings Trading Strategies, Accounting-Based Valuation, and Information-Based Investment Strategies. Sinclair has also served as a guest speaker at the White House, Department of Homeland Security, and many other academic and professional conferences and institutions.
Dr. Sinclair earned his Ph.D. in Business Administration with a concentration in Accounting from the Pennsylvania State University.